Umpire Uniform Policy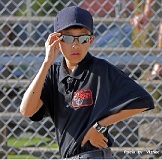 Umpires must wear a:                            
-Black or Navy Blue umpire shirt
-Grey slacks, no jeans or sweatpants
-Black hat (BCBUA logo or no logo at all)
-Black shoes with little white
Umpires Late Policy
 Umpires must be at HOME PLATE 15 minutes prior to game start
 time dressed and ready for pre-game meeting with coaches. 
If an umpire is running late they will call the umpire coordinator
The umpire coordinator will advise the home team coach
If an umpire does not show up a replacement will try to be found
If the plate umpire is absent the base umpire will have first choice in 
taking the plate position
The absent umpire will not receive any pay.
Umpire Pay Scale
| | | |
| --- | --- | --- |
| LEVEL | PLATE | BASE |
|   9U Tadpole | $10.00 | $10.00 |
| 11U Mosquito | $30.00 | $25.00 |
| 13U Pee Wee | $35.00 | $30.00 |
| 15U Bantam | $40.00 | $35.00 |
| | |   |
| 18U Midget | $50.00 | $45.00 |
We are seeking volunteers for umpiring for the upcoming spring season.
To qualify as an umpire you must have completed at least the Level 1 
umpire course.
To umpire in the higher divisions you will require the Level 2 qualification. 
Click here for details of upcoming Ump Training Clinics.
Umpires will be scheduled only for age divisions lower than the umpire.  
A Bantam age player will only umpire PeeWee and lower, etc. 
Umpires will be scheduled on a rotating basis, i.e., as equitably 
as we can make it and payment to the umpires will be made monthly 
by cheque.  
We will employ an umpiring calendar accessed from our website. 
Details on how to request games and other scheduling issues will come 
out in a further email from our umpire coordinator once the master list
 is created.
If you (or your son or daughter) is interested in umpiring games this year,
please send an email to our 
Umpire Scheduler,  Tom Griffith email is tomgriff@telus.net
The email should include the umpire's name, email contact, primary and 
secondary phone numbers and umpire level achieved,
 i.e., Level 1 or Level 2.
 Thank you.
VMB Umpire Scheduler 
Tom Griffith
tomgriff@telus.net