VMBA Umpire Orientation & Registration
For umpires that wish to umpire in divisions from 9U Tadpole to 15U Bantam AA

Sunday, March 5th, 2017  at 12 noon to 2pm
Location: Victoria Drive Community Hall, 43rd and Victoria Drive, 2026 E 43rd Ave, Vancouver, BC
There is no cost to attend. 

We encourage you all to attend if you wish to umpire at VMBA this season

If you have not yet applied and wish to umpire at VMBA this year, please email Tom Griffiths at tomgriff@telus.net
With name, age (if not adult age), phone number and email.

Thanks,

Tom Griffiths, VMBA Umpire Co-Ordinator 
Additional info re pay scales and umpiring uniform policy, see Ump Information on our website.

Optional:  New Umpire Kit 
Includes shirt, hat, brush and belt carrier. 
Sizing and orders will be available at March 5th session.
Cost: $50.  by cash or cheque payable to Vancouver Minor Baseball or e-transfer to treasurervmb10@gmail.com 
If you wish to order an Umpire Kit, but are unable to attend March 5th session, please email your contact details and shirt/hat size to our Co-Equipment Manager, Kevin Christianson, at kevinc@racketsandrunners.ca
BC Baseball Umpires Association offers Level 1 and Level 2 Umpire Training Clinics at our neighbour associations.  To view and register for ump training, click: BCBUA Clinic Listings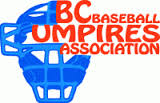 Questions?  Contact Tom Griffith email tomgriff@telus.net