Learn how to scorekeep!     
All parents of 9U Tadpole players up through 25U Junior are encouraged to attend. 
Pat Tsang and Vicky Yip, long-time VMB parents and scorekeepers, have generously volunteered their time to teach both basic and advanced scorekeeping at the following Clinic if there is enough committed interest.  Please let us know if you are able to attend.  Players' relatives and fans welcome too.
All teams need scorekeepers!
Scorekeeping Clinic (Basic & Advanced)
Date:  Wednesday, April 26th at 7 pm (approx end 8:30 pm)
Location: Nanaimo Park Field House (street side of washroom building)
Bring:  Pencils, erasers, various coloured pens, highlighters (limited supply may be available for use).
RSVP by email to vmbregistrar@gmail.com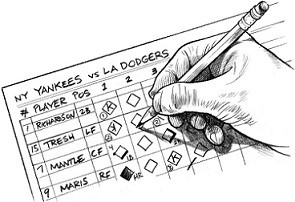 Nanaimo Park is located at Nanaimo St. & East 46th Ave., Vancouver, BC
Check out following link and video as well.
http://baseball.about.com/od/baseball12/ss/howtoscore.htm
For people who know a litle about scorekeeping and the game:  "Keeping a Scorebook, Part 1"
Scorekeepers are Priceless!