Any player who resides in Vancouver, based upon our league boundary, is eligible to play in VMBA. 
For 11U Mosquito age levels and lower - VMB boundaries are all of the City of Vancouver (subject to BC Minor Baseball Rule 1.04(D)).  

2017 BCBA Rule 1.04(D).docx 
For 13U PeeWee age levels and older - check VMBA map below prior to registration.  If you do not live within our boundaries and you are not from a free territory, you require a Release (Player Movement Request) described below to play for VMBA.  Exception: 18U Midget AAA and 25U Junior Men's players are not subject to boundaries.
For rep team 13U PeeWee AA, AAA and 15U Bantam AA, AAA try-outs, see our section on Evaluation Try-Out Releases at bottom of page.
If you live in a "free territory" (no BC Minor Baseball catchment), you do not require a release to play for VMBA.  Click here to see all BC Baseball catchments boundary maps.  Free Territory players may be subject to import restriction rules.
If you are an over-aged Little League player within our boundaries (or a free territory) and can no longer play in Little League, you are eligible to play in our PeeWee or Bantam programs depending on your birth year.
LEAGUE BOUNDARY FOR REGISTRATION
If you live in the boundaries (as per BC  Baseball guidelines) set out in our map below, register with Vancouver Minor Baseball. 
North to South:  Burrard Inlet to the North Arm of the Fraser River.
East:  Up to and including the east side of Boundary Road.
West:  From the North Arm of the Fraser River;  Proceed north along Fraser Street to Broadway.  Then West along Broadway to Main Street.  Then North along Main Street to the Burrard Inlet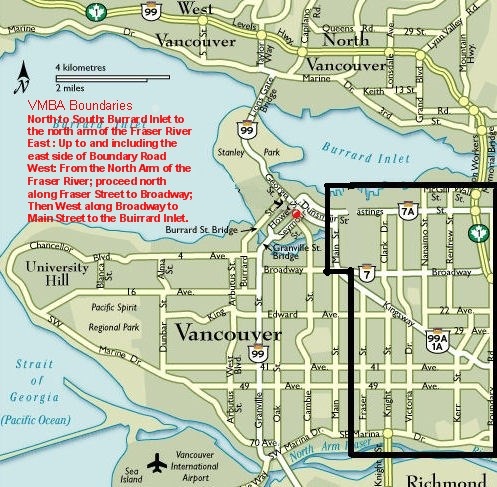 Click here to view boundaries of all BC Baseball catchments.
Release Instructions
Follow below steps if you would like to play for
Vancouver Minor Baseball Association but live in a different catchment
      Before you start the steps, please check your catchment.
1. Please go to BC (Minor) Baseball website and download a Player Movement Request. (pdf or MS Word)
MS Word: http://www.bcminorbaseball.org/organizations/1847/documents/79618

pdf:  http://www.bcminorbaseball.org/organizations/1847/documents/79623
 You can print out the form & fill it in.
Special Note: you will notice at the bottom of the page there is a place for the Presidents to fill in & sign it.  (PLEASE DO NOT FILL OUT ANY PART OF THAT AREA).
2. Please scan your filled out form. Send when completed to your home association's President by email so he/she can fill in their part and sign it. They will then send it back to you when done, if they agree to the release.  If they do not agree, you should get an email from them saying they do not agree to release your player.  In that event, you can then make a request to Pat Weatherill, BC Baseball's Equity Volunteer at pess.rmd@shaw.ca.
3. After the home association President signs the "Player Movement Request" (release) form, you must email it to the President of the association you wish to play for.
 Please send releases to VMBA's President Mary McCann flame_1010@hotmail.com
If you are accepted to this new association, the new President will sign the player movement form and send it off to BC Baseball for their approval.
4. Once all of that is done, the President of the new association will contact you to let you know you have been approved and welcome you to the new association for that current year.
Special Note: You cannot participate in any programs until above steps are done.
****************************************************************************
Spring AA & AAA (13U & 15U) &/or Summer Evaluation Try-Out Releases
Email Pat Weatherill BC (Minor) Baseball Rep to request 

Evaluation Try-Out Release

 as well as our President Mary McCann at flame_1010@hotmail.com.

In email list player's name, address, current Division and Association you are coming from.

In email also put Division & name of Association you wish your player to be evaluated (try-out) for.
BC Minor will not look at any Spring release requests until after January 1st of current year.
DO NOT LEAVE YOUR REQUEST TO THE LAST MOMENT, AS IT TAKES TIME TO GET A RELEASE!!
Please email paperwork to Vancouver Minor Baseball Association's President Mary McCann  at  flame_1010@hotmail.com