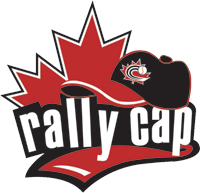 For birth years 2012 and 2013 (ages 6 to 7 yrs old as of Dec 31)
Rally Cap is designed for T-Ball and Blastball participants, their coaches, and parents. Three teams convene to share a playing time, with two teams playing while the third practices. Teams rotate after each inning. The program offers complete lesson plans and initiation drills that are a bonus for coaches and parents new to the game.
The program includes a progressive element with up to three skill testing opportunities for players each season. Colour-coded Baseball Canada baseball caps are awarded and celebrated based on levels of accomplishment.
Why Rally Cap? Since 2005, participating associations have reported increases in registration. The program combines playing and drills to keep young participants interested, active and learning, and coming back to the game season after season.
Visit Baseball Canada for more details about the program and the skills.